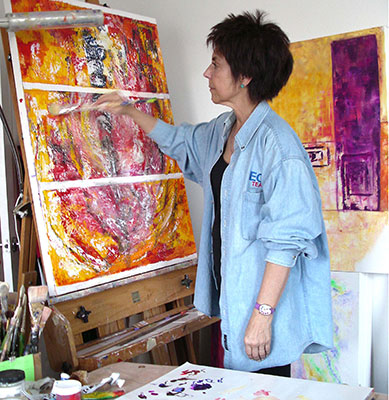 I capture energy on canvas™. When creating an abstract or figurative piece, I often feel tingling in my arms and hands and waves in my body, like a rush of caffeine, or a shiver from a chill. Sometimes I experience a quickening in my chest, an inexplicable feeling of love and connectedness. I keep working with the painting until it begins to have a rhythm and core of its own that I follow until completion, which may take a week, a month or several years.
Abstracts are generally done in acrylic. I paint with both hands letting the energy inside build, painting, at times, with quick urgent strokes and then wiping areas off with rags until the piece takes form.
My love for creating figures in oil, allows me to express my passion for beauty, design and color. Lively, bold, vivid art, keeps me connected to the delicious, exciting, and sensual sides of life which can get lost in a long list of to do's, computers, and cell phone necessities of life.
For many years I was in private practice as a counselor, healer, teacher and energy intuit. It is a privilege to use my background in the healing arts to share my reverence for life through creating art.
Selecting a piece of art is a personal choice and an individual experience. Discover the beauty that moves you, delights you, and surprises you.
And wherever you decide your art will live – in your home or office, bedroom or kitchen, may you visit often, taking time to, celebrate and renew.
All artwork is available for sale. CLICK HERE to request pricing information.
"Artist, Karen Dellosso captures powerful energy on canvas in her intuitively-based paintings, which reveal themselves to her as she creates… The images show the passion she feels; movement and intensity is contained magically…your customers will certainly relate to and want to take home."
New Age Retailer Magazine
The artist has reserved the right to reproduce and market poems and images of any of these pieces in art card, giclee, or any other format unless otherwise agreed with the buyer.